E-MINI STOCK INDEX FUTURES DAYTRADING COURSE FREQUENTLY ASKED QUESTIONS
Course Background
Teaching Philosophy
Trading Philosophy
Pitfalls of Mechanical Systems
Tuition and Scheduling
Common Questions
Contact Info
Free Emini Stock Index Futures Daytrading Tips via Email
---
Course Background
Q: How long have you been teaching your Emini Daytrading Course?  How do I know I can trust you amongst all the others?
A: We're in our 23rd year teaching stock index futures daytrading. Long term, we have always had a laser focus on nothing but stock index futures daytrading. We didn't evolve from teaching stock trading, options trading, nothing down real estate, or anything else. We've always been focused on one thing and one thing only: daytrading stock index futures. We are the first and oldest stock index futures only daytrading school in the world. Everyone else has to rise to our standards. You'll benefit from these extensive years of experience in bull markets, bear markets, and sideways markets. Note: We've added currency futures which are based upon forex at the request of several students but the techniques are almost exactly the same.
Q: Has your daytrading course adapted to a changing market over these years?
A: Of course. Over the years I've simplified it. It's based more on pattern recognition of the price action alone. However the emphasis on my utilization of extremely Simplified Elliott Wave™ has become greater. My utilization of extremely Simplified Elliott Wave™ can effortlessly give you low-risk high-probability entry setups. You'll see exactly what I'm talking as you learn my techniques. My utilization of Elliott wave specifically for daytrading is much simpler than anything you've ever seen before. And I structured it so that even if you're wrong, it can still work. It's actually pretty exciting.
Most people try hard to become good Elliott wave counters and fail. The way I use Elliott, I don't focus too much on the count. I use the parts of Elliott Wave analysis that help me find low-risk high-probability daytrading entries and don't worry about trying to get a perfect count, because it's actually not necessary.
Q: Is this the complete course, or do I have to buy an additional course or an upgraded course to get the whole thing?
A: This is the whole thing. The complete course. All inclusive for a full year. You get everything you need to trade during your 5 days of One-on-One training. We follow that up with a full year of personal mentoring and support to help you along the way. Your year of support includes a full year access to the Community Room, where you can converse live with me and fellow students watching my live chart. For a deeper review of trades and understanding of the techniques, you receive a full year access to the Daily Recap Webinars. If you miss a webinar, you have access to the video archives to watch it later. As another option, if you decide you'd like fine tuning day(s), fine tuning telephone hour(s), or to continue with the full support package after the first year, it's available at a very reasonable fee. See our support page. Obviously if you want to trade, you'll have to have your own brokerage account, however that's independent of the course.
Q: If I contact you about the course, are you going to add me to a sales call list and call me all the time?
A: Absolutely not. We've never done that. If you read our home page, you'll notice we are not about hyped sales pitches. This is a decision you need to make on your own, when you're ready to commit to the training, and we respect your ability to make your decision when the time is right for you. So that when you do come, you are focused, ready and committed to learning. You'll see that we truly are concerned about you, your progress, and your success.
---
Teaching Philosophy
Q: Is One-on-One the best way for me to learn?
A: The most expensive route is to try and figure it out yourself. The fastest and most inexpensive way is with a private mentor, One-on-One. (Large groups in a hotel meeting room don't work very well except for the promoter.) We've had a number of people that want to take the course but have had difficulty carving 5 days out of their busy schedule for One-on-One face-to-face training. So for several years now we've been using gotomeeting to teach those that prefer online training. Plus we can schedule the times when it's convenient for you. Same thing, One-on-One, but online. But now we have yet another method for those that simply can't carve out 5 days, or don't want to. I taught the course and video'd it. I included a fairly new student in it so he would ask the same questions you'd probably ask. These are bite-size videos, so you can watch one when you have 5 to 15 minutes available. And if you're interrupted, you can just click pause. There's a total of 49 short videos. We call them bite-size videos. One subject per video. Very easy to fit into a tight schedule. Each topic is thoroughly and slowly covered. Plus you can replay any video as many times as you want. Thus they're a very convenient method to learn the material taught in the 5 days. Anything else we need to add such as computer setup or charting configuration is simply done during the Community Room or any other time when it's convenient for both of us, via gotomeeting.
"From my professional experience and observation in counseling traders since 1994, I have found that traders who have mentors do better as traders for the following reasons:
Having a mentor allows traders to seek help when it is needed, which is a vital resource and one that provides traders with a competitive edge.
If traders are heading for trouble, a mentor can help to steer them in the right direction.
A mentor can save a trader a great deal of time by not having to repeat the same mistakes that he made or common mistakes that most new traders make.
A mentor not only saves a trader a great deal of money by preventing losses, he can also make a great deal of money for a trader by guiding him to the best trading decisions.
A mentor can protect a trader's career by providing him with emotional support. Even the most technical mentoring provides emotional support because it reduces anxiety, increases confidence, and allows the trader to feel that he is not alone.
Traders with mentors are more disciplined and good discipline is the backbone of successful trading. Good discipline comes from having a strong sense of purpose and self-worth, which are side benefits of having a mentor.
A mentor can steer a trader to other valuable resources that might have been previously unavailable or unknown to the trader.
A mentor can act as a safety valve for a trader who is feeling pressure and is unable or unwilling to share his feelings with his family."
Adrienne Toghraie, Trader's Coach, Traders World Magazine, Issue 37, page 26
Research from Dr. W. Edwards Deming revealed that 94% of all failures occur when a person is not following a time-proven system. The fastest, easiest path to success is One-on-One Hands-on training with a personal tutor that is teaching you a system that has been refined and simplified to the nth degree over many years.
Q: Why do you have one teacher per student? Many courses say they have One-on-One training in a group setting. What's the difference?
A: True One-on-One™ (face-to-face or online) training is the most effective way for you to learn daytrading. I can focus on you and adapt to your needs, especially psychological needs. This can't be done in a large group. Group sessions are extremely frustrating because they may go too slow or too fast for you and there's nothing you can do about it. There's just no substitute for One-on-One (face-to-face or online) daytrading mentoring, or bite-size video training. Long term, it's the most economical approach. And it's a lot cheaper than trying to figure it out yourself. Plus you get your computer set up correctly (something which is really impossible to appreciate until you watch it happening (face-to-face or yes, even online) and see all the setup work we do on your computer).
What you may be referring to are courses that are in a group setting with a second roving instructor going from student to student as needed for momentary One-on-One training. The problem with momentary One-on-One training is that the pace of the whole course is not focused on you and your needs, so it's not True One-on-One™ education. With all of our teaching methods, you're able to pause the conversation until you get it, whether in person, on gotomeeting, or watching my bite-size videos. Actually, if you go with the bite-size video approach, you can pause anytime you want and you can replay any portion of one of them as many times as it takes for you to get it.
"I have been using Microsoft Windows based computers for about 15 years. Among my friends and family, I am considered the expert; they usually call me when they have a problem, and I can usually help them fix it. The first day of your course raised my knowledge of computer setup and maintenance to a higher level. In addition to setting up my charting software correctly and providing me with 1,800 pictures of historical trades, you tuned up my Windows operating system and installed a comprehensive solution for dealing with viruses, worms, trojans, adware, spyware, cookies, temporary internet files, and hard disk management. I was impressed with the thoroughness of your setup work. After reading your article on surge protection, I bought a Zero Surge from you. I already owned an APC 1100VA Back-UPS. Obviously, this is a computer-based business, and we cannot do business if the computer goes down. My fortress is stronger than ever. You told me that some students do not understand or appreciate the importance of spending most of the first day on computer setup and maintenance. I want to tell everyone who takes this course to accept the importance of what is done on day one. Watch, listen, learn, and take notes. You need to learn how to use, maintain, and protect your computer. Over the years, I have dealt with hundreds of computer malfunctions, some minor, some catastrophic. Day one is designed to prevent most of these problems from happening. It is well worth the time and effort to accomplish this." – J. H., Indianapolis, IN
Q: Do you offer home-study?
A: Yes, we sure do. Our new Bite-Size videos are ideal for those that want to train at home on their own schedule.
Q: Is there additional training after my initial 5 days of training or after I absorb the info in the 49 Bite-Size videos?
A: Yes, there sure is. After your initial 5 days or 49 Bite-Size videos, you will begin the 3 Steps, which is a proven process to internalize everything you learned during the 5 days or while going through the bite-size video course. The Home Study Manual is designed to be your guide for this portion of the training, so you're not wondering what to do on the following Monday. You'll know exactly what to do.
In addition, your course includes a full year of the Community Room (a live gotomeeting chat room) plus a full year of the Daily Recap Webinars. These have helped students increase their learning pace, correct misconceptions, and build camaraderie.
Of course, after your 5 days or after you've internalized the info in the 49 Bite-Size videos, you'll be receiving frequent emailed annotated screen shots as continuing education for a full year to help you succeed. I am committed to your full and complete understanding of the techniques.
"BTW, thank you for all your efforts in responding to our charts. We find this part of the course most valuable. Reading critiques of our trades helps us to continue to convince the left brain that the right brain is processing properly."
K.W. – Port Jefferson, NY
Q: You mention the 3 Steps. What do they entail?
A: The 3 Steps is a process, it's our proven method to build a solid foundation for your trading career. At the end of this process, you will have spent enough time watching the market to be in tune with it, practiced the techniques enough to internalize them, and built your confidence as a trader. Equally important, the 3 steps are a real eye opener to your psychology – my students rave about how well they work out their kinks before trading real money. Here's a brief synopsis of the 3 Steps:
Step 1  In step 1, you will watch the markets (no trading) and ask lots of questions during the trading day in the Community Room. This eliminates any misconceptions you may have, positively reinforces your knowledge, and expands that knowledge as you progress. When you feel that you've internalized the entries, you'll go to…
Step 2  In step 2 you'll be paper trading using our exclusive Trading Journal. In paper trading, you write down on a piece of old fashioned paper which entry you took, what you did for trade management, and several precise questions that challenge you to learn from each trade. When you consistently hit 90% winners and breakevens, you go to…
Step 3  In step 3, you'll be simulator trading. In this Step, your goal is to do everything you would be doing live- schedule, number of contracts, Controlled Distraction™ all need to be in place. When you are able to substantially increase the value of your Simulator Account, starting with 1 contract and working up to no more than 6 contracts, you can consider going to real money, trading no more than 1 contract for a while. However, if you decide to trade real money, you must understand all the risks and be willing to accept them.
Q: Since this is a full year educational training course kicked off with 5-days of intensive One-on-One training, do I have to wait until the year is over to start trading with real money?
A: You start trading with real money when you're ready. That's typically when you can significantly increase the value of your simulator account trading modest numbers of contracts. The year of support is for you even when you're trading with real money to help you continuously hone your skills. I'll be there to mentor you the entire time. Again, if you trade real money, it's your decision alone, and you must be aware of and willing to accept all the risk.
Q: With all the students you teach, how accessible are you to answer my questions?
A:  The best support tool I have ever found is the Community Room, an online chat room exclusively for our students during market hours. The Community Room shows my charts in real time, allowing you and your fellow students to ask questions live. I have even fixed students' computers during the Community Room; consider it bonus free tech support. When I am training a student, I am only an ear shot away. All support is now done during the Community Room and during the Daily Recap Webinar. That's from 9:30 to 4:00 and then the Daily Recap Webinar from 4:00 until we're through. We know the ablility to converse with your mentor about questions you have after the training completes, especially when you're trading live, is incredibly valuable support.
If you're participating in the Daily Recap Webinars, you can ask any question during the webinar. This is also beneficial to your fellow students, who might not have thought of that question.
Q: I'm still working and my schedule doesn't allow me to watch the market live yet. Can this course still work for me?
A: Yes. The stock index futures and currency futures trade around the clock. That wouldn't be quite as good as being able to watch the stock index futures from 9:30 to 4:00 Eastern, but would still be excellent training experience. Certain currency futures are active early morning and others are active early evening, so those would be good opportunities. We can set your computer up for them.
Keep in mind that certain currency pairs are very active in the Eastern time zone's evening and other currency pairs are very active starting around 3 a.m. Eastern. Thus there's almost always something actively trading all day and night.
If you're in the middle east, you can trade the U.S. stock index futures in the evening.
Q: After the year of included support, can I purchase continuing support and updates for as long as I want?
A: Yes, you sure can. Although we train you to become an independent trader, no longer needing us or anyone else, we realize some traders may want help later on or simply want a connection. So, we offer continued support at a very low monthly fee of $30. And, once you're a DayTradingCourse.com student, you can take advantage of this support whenever you need it, whether it be long term, short term, on and off, or even years in the future. Details are on our support page.
"I learned a tremendous amount during the year-long course with you. But in addition to that, I've found your on-going support to be essential because you're continually updating, refining and adapting your methodology. Staying current with these developments gives me a constantly improving edge in daytrading." – F.P., Manasquan, NJ
---
Trading Philosophy
Q: Exactly what approach do you use towards daytrading? What works and what doesn't work?
A: I teach you how to develop your own daytrading skills rather than relying on a computer. The computer is relegated to the position of an assistant. Your right brain is infinitely more powerful than any computer, so that's what you should be developing. Relying on indicators alone is an archaic left-brain approach.
An even worse approach is trying to have the computer tell you what to do (e.g., mechanical daytrading systems that attempt to give you buy and sell signals — if that worked, you could hire a secretary to trade your system, and I seriously doubt anyone would).
You'll learn my own version of Elliott Wave, Simplified Elliott Wave™, since Elliott is one of the few things that's based on a constant: human emotions. I also use back-to-basics pattern recognition. Many of my patterns help you gauge, at a glance, the emotional content of the market.
The most important thing you'll learn is how to to minimize losses:
"As you know, my first rule is to not lose money. Losing an opportunity is minor in comparison, because there are always new opportunities around the corner." – Burt Dohmen's Wellington Letter, February, 1999, p. 5
My whole underlying focus is on low-risk high-probability entries. For example: If you lose $X and then risk another $X to enter the next trade and make $X on that trade, then you're only back where you started financially, but you're emotionally drained. So you can see very quickly that the key is to use low-risk high-probability entry techniques. It's imperative to be focused on not losing money rather than focused on making money. That's not a contradiction. And yes, it does make sense. We'll go over the math behind why this is true while you're here.
Q: How do you enter a daytrade and have low initial risk?
A: There are three main ways to enter the market.
Trading range breakout.
Trend following.
Entering immediately after a reversal into a new trend.
The first has too much risk and can whipsaw you in today's markets. It frequently gets you in late and thus you swap potential profit for real risk – not good. This is what most other folks teach.
The second is what we focus on.
The third, entering immediately after a reversal to get you in as close to the beginning of a new trend as possible, is used in several of my entries. We have fine tuned it so that what we now do is briefly wait and take a trend following entry right after the reversal to increase the reliability. Low risk. Low stress. High probability. That's what you'll learn.
Q: I've always heard that picking tops and bottoms is risky.
A: I've heard that too. When you learn how to spot and confirm reversals shortly after they occur, you'll wonder where these guys are coming from. And consider this: when you enter a few bars after a reversal, you're getting in on the new trend near its beginning, so you can have a profitable position before the "experts" get on board. And if you do get stopped out, your loss will be tiny compared to the experts' losses. (And you're not counter-trend trading or scale trading…which is getting in before the reversal.)
When you make the market "prove itself," as most mechanical systems do, you're getting in late and missing a good chunk of the move.
Q: Are your daytrading techniques applicable to other futures contracts, stocks, or mutual funds; and longer time frames?
A: Yes. My techniques for daytraders are based on pattern recognition and crowd psychology and thus are flexible, adaptable and versatile. They're usable on stocks, the popular QQQ's, SPY, and DIA, ETF's, all futures, Forex (FX) currencies, currency futures, and even mutual funds, on any time frame. If you position trade stocks, you can use the exact same techniques you use for daytrading, and we'll set up those charts in your computer for you. Charts for all these tradable products are already made and will be put into your computer as part of the course. No extra charge. We also include annotated chart pictures of products other than the Emini's for training purposes.
Q: Can your techniques be used for longer-term trades?
A: Absolutely! You can use them for any time frame you choose. We do. Of course, the smaller the time frame, the tighter the stops. That's one of the classic benefits of e-mini futures daytrading. Many people use these same pattern recognition techniques on their longer term stock investments. In fact, I will set up your software with daily charts for your favorite stocks. The techniques you'll learn are very flexible, offering you the greatest chances of long-term profitability. That's what this is all about.
Q: Do I have to watch the monitor all day?
A: Not at all! Most of our students trade for the first hour and a half or so and then quit for the day. Some trade for an hour and a half in the afternoon. Some only trade once a day. Some take 2 to 6 trades per day. It's totally up to you. This is your business and yours alone. You can trade as much or as little as you want, depending on your time and preferences. You're in complete control, and you'll have the knowledge you need to assert that control profitably.
---
Pitfalls of Mechanical Systems
Q: What about mechanical daytrading systems vs. discretionary trading?
A: Mechanical daytrading systems dont work over time. Heres a partial list why…
Most people never follow mechanical daytrading systems mechanically. They modify them as they go along. So they're never used as mechanical daytrading systems. The worst part about this is that daytraders second-guess them. If they second-guess them based on pattern recognition, then the logical question is: why don't they simply learn pattern recognition instead, and skip the mechanical daytrading system.
The maximum intraday drawdown on almost all mechanical daytrading systems is higher than most people will tolerate. So they quit using them or second-guess them.
The number of consecutive losing trades in most mechanical daytrading systems is higher than most people will follow. So they quit after several consecutive losing trades and miss the next daytrade which is the winning trade. It happens all the time.
If there really were mechanical daytrading systems that worked, the big players would have already paid a few hundred million for them.
All mechanical daytrading systems are based on a linear world. A simple linear math approach to predicting prices has never worked and never will. It assumes the past will be repeated in the future. Thats not reality. We live in a non-linear world, of course. And although the future may be similar to the past, its different enough that computer generated trades won't work, long term. However pattern recognition does work, long term, as a daytrader's brain is highly adaptable.
Most mechanical daytrading systems are curve fitted regardless of the claims of the promoter. That's why they come out with new versions each year.
Why do people program indicators and mechanical daytrading systems instead of learning chart patterns? Its Psychology 101 avoidance behavior. They are avoiding trading and developing pattern recognition skills by falling back into their comfort zone, programming. Programming isnt trading. Programming and daytrading are mutually exclusive activities.
If someone buys a mechanical daytrading system and it doesnt work, this is also explained in Psychology 101. The buyer slips into the victim role. Instead of blaming himself for buying the mechanical daytrading system that doesn't work, he shifts the blame to the programmer. Searching for the mechanized holy grail daytrading system has always been an exercise in futility. So why join the sheep when you could be the shepherd.
The Bottom Line? Trading is an art. Art forms are never mechanized.
Pattern recognition (discretionary trading) is much simpler and much more fun. You're actually using your brain, which is far more powerful than any computer. Does that mean you shouldn't use indicators? Yes, because you can see what they can see, so you don't need them. What about indices? We use one for confirmation. We don't use indicators because they aren't necessary and most people fall into the trap of trading indicators rather than trading the price action.
"In my experience working with some of the world's finest traders, I have found that purely mechanical traders often have a short shelf life. On the other hand, intuitive discretionary traders can stay in the game because their trading is unique." Adrienne Toghraie, Psychological Trading Coach, Trading On Target, Issue 20, p. 2.
Q: OK, I agree, mechanical daytrading systems don't work long term. But what does work?
A: Trading is an art. It requires learning trading basics, pattern recognition, using one index three different ways, and honing your intuition based on seeing patterns. Intuition is nothing more than your instincts once you've internalized all this. Everyone in every profession naturally develops intuition. How does Michael Jordan know how to shoot the ball? He just knows. Mechanical people have difficulty accepting this until they see how easy and simple intuitive trading really is. Then they'd never go back to a mechanical daytrading system.
Since almost all mechanical system daytraders end up second guessing their mechanical daytrading system, or applying "exceptions," what they're really doing is using their pattern recognition skills and instincts. And then they see good entries that their mechanical daytrading system doesn't give them. Do they take them? Usually not. If that's the case, then why not just learn what works up front and skip the mechanical daytrading systems? In fact, most good intuitive daytraders find that the mechanical daytrading systems ultimately hold them back.
There is no shortage of mechanical systems (software) available that will give you buy and sell signals. Their claims are certainly enticing. However the profits they generate are almost always for the seller of the software, not for you. They appeal to the subconscious desire of traders to take a short cut to profitability. Our approach uses a much more powerful computer than the one sitting on your desk. Our students tell us that after learning our Simplified Elliott Wave™ pattern recognition techniques, they wonder why anyone would ever consider a mechanical software system. In summary, your brain and pattern recognition skills are far superior to computer software mechanical systems.
Once you know the basics, you'll have your own personal daytrading methodology for whatever market you want. You'll become a successful daytrader.
Good trading starts out as a left brain exercise as you learn the mechanics. Once that's internalized, the intuitive right side of your brain effortlessly takes over. All good traders are ultimately intuitive. I've found that intuition (your instincts based upon pattern recognition) is a large part of most successful traders' personal methodology. I'll teach you how to develop your intuition.
You can go into the spatial world of the right brain where everything happens at once and you get the big picture instantly (the Ah Ha reaction), or you can go into the linear world of the left brain where it divides into individual items and you have to deal with them one at a time.
As many have said, "Intuition is the ultimate indicator."
"Although we spend most of our lives in classrooms where we learn to develop our intellectual left brains, the irony is that the most important decisions we make in our lives are ultimately related to our intuitive hunches and gut feelings, rather than logical, rational thought. Intuition is defined as the capacity to make a correct decision with insufficient rational information. Interestingly enough, our left brains may tell us the facts of a situation, but our body's intuitive wisdom always wins." — Mona Schulz, M.D., Ph.D.
Q: So you don't teach mechanical daytrading systems?
A: That's right. I don't teach mechanical daytrading systems or methodologies because they don't work long term. I teach basic pattern recognition techniques which have been refined over 20+ years, combined with strict risk control.
When you combine all this with your intuition (which I'll teach you how to develop), you will automatically have your own personal daytrading methodology. It will be dynamic and adaptive, which is exactly what you want.
There are 3 primary setup patterns, plus 4 different types of confirmations by one index that will allow you to see the market as you've never seen it before. It's not vague. It's so clear that it will leap off the screen and grab you by the throat.
It's a combination of patterns and index confirmation easy to learn yet flexible enough to adapt to changing market conditions.
One of the most consistent techniques I've found over the years is Elliott Wave. Luckily it takes a little time to learn, so most people give up on it. That's good, because we don't have to worry about everyone using it and thus reducing its effectiveness. I'll teach you how to use Elliott in a way that no one else teaches, Simplified Elliott Wave™. I make it simple. Very simple. And one of the nice things about Elliott is that if you really know how to use it, you can have the wrong count and it still works. Sounds contradictory, but it's not. You'll see exactly what I mean during your initial 5 days. By the way, the reason Elliott Wave is so consistent over time is that it's based on human emotions and crowd psychology. Human emotions and crowd psychology have never changed.
Another interesting point is that many people put indicators and other lines on their charts that actually hurt their ability to see the flow of the price action. That's right. Most people inhibit their ability to see the price action by adding unnecessary indicators and other lines on their charts.  I'll show you 30 screen shots of exactly what I'm talking about while you're here so that you don't make this mistake when you get back home. This is a very common mistake that you'll avoid. (There's a lot more to this self-sabotage subject which we'll also cover during your 5 days.)
I get phone calls all the time from my students telling me that they're finally in control for the first time.
---
Tuition and Scheduling
Q: Why is your fee so reasonable for such intense, personalized daytrading training, complete computer setup, your charts, and a full year of mentoring?
A: It's a fair price and I enjoy the interaction with other traders.
"In trading, one idea, one new way of profitable trading can be worth a fortune over your lifetime." – J.W. Dicks
Q: What exactly will I get for my money with DayTradingCourse.com:
A: The training you want: 5 days of truly personal, One-on-One training in Emini & Mini-Dow futures daytrading. There is simply NO SUBSTITUTE for this live training experience with a mentor. It's a true one-student, one-instructor class, face to face, or online via gotomeeting, one-on-one. Or our 49 Bite-Size Videos that teach you the exact same material. Watch one video whenever you have a few minutes free. You can also pause or repeat any video. A very convenient approach if you can't carve out a full week, but you do have 15 minutes here and there. Our course is designed to give you:
The support you need: One full year of personal support after your 5 days of One-on-One training, including a full year of The Community Room and a full year of Daily Recap Webinars as part of your all-inclusive tuition!
The flexibility you desire: If you're unable to travel for face-to-face training, you can be trained just as effectively online. Then, after the 5 days, take as much time as you need in the 3 Steps, they are progress based. Later on, even years down the road, if you need to polish your skills, you can select from a variety of continuing support options to suit your needs. This course is customizable to you for the long term.
The diversity you deserve: Although primarily for daytrading the popular E-Mini Stock Index Futures and Mini-Dow futures, the techniques we use work on anything you can chart – all futures, stocks, and ETFs in any time frame. The DAX futures are popular with my European and Middle Eastern students. Currency futures and crude oil futures are also quite popular. When gold and silver heat up, their futures become popular.
The stability you require: Profit if the marketgoes up or down. A great profession in turbulent and uncertain times. Profit faster if the market goes down.
The education that suits your needs: For beginning traders through the experienced investor … your training will be customized for YOU. We will pause and clarify anytime you want, but can also cover familiar material as quickly as is comfortable for you.
When you take advantage of our unique E-Mini Futures Daytrading Course, you will:
Learn how to quickly spot low-risk, high-probability
Master trade management.
Learn my Simplified Elliott Wave™- based entries.
Gain the ability to use Elliott Wave without counting.
Learn simplified intraday Japanese Candlestick Reversal Patterns.
Get educated about simple trade management techniques to maximize profits.
Master the best exit strategies.
Simplify daytrading for a more pleasant, more profitable experience all around.
Enjoy daytrading stress-free. We emphasize trader psychology for obvious reasons.
"Enjoying the course very much, I am always amazed at how Elliot works over and over again and how your entries work over and over again. Amazing! Thanks for all of your years of hard work and trial and error to figure this out, and for sharing it with us. " – J.L., Westmont, IL
You'll also get 5 e-mini futures daytrading manuals, each specifically designed to help you succeed in its subject area. Included in these manuals are the best topic-relevant questions and answers from our previous students. These Q&A's provide you with the benefit of learning from other students' common questions and experiences – without the inherently harmful competition or intimidation commonly found in a classroom environment. These manuals include:
Trading Pre-Course Manual: Before you arrive for your training, I'll send you my Trading Pre-Course Manual. This manual prepares you for optimal training and gives you the foundation you'll need to maximize your training time.
Trading Techniques Manual: During your 5-Day one-on-one session, you'll receive my E-mini Futures Daytrading Trading Techniques Manual, which contains my highly simplified daytrading-specific candlestick reversal patterns. It also includes a complete education on my extremely Simplified Elliott Wave™, which utilizes portions of Elliott wave for spotting low-low-risk high-probability daytrading entries. There is so much more to this manual that we just can't describe it all here. This is the manual you will be primarily trained with during your 5-day course.
Trading Psychology Manual: My Trading Psychology Manual covers the pitfalls and psychological traps most traders fall into, and how to avoid them. It also teaches you how to enrich your powerful intuitive right brain for better trading.
Trading Computer Manual: My Computer Manual includes lots of user-friendly information on the computer software and hardware that you need for daytrading. It's a great reference tool that answers most questions our students have regarding their trading computers.
Trading Home Study Manual: My Trading Home Study Manual is the one you'll use once you've finished the one-on-one training. This manual reinforces the techniques you learned during the 5-day training or bite-size video course and guides you every step of the way, including hundreds of your fellow students' questions with my answers.
"Hey Paul- What great manuals-" – M.D., Thomaston, GA
In addition to your one-on-one training and five comprehensive manuals, you'll also receive handouts, quizzes, and feedback throughout the training session. Multiple quizzes (actually, they're really more like practice/repetition) guarantee that you have a deep understanding of the techniques before you leave your 5-day training.
You'll also get historical annotated screen shots that we've already sent out to students. We'll put these into your computer so you can review them to build your mental pattern recognition bank. These are very valuable, as you'll see when we go over a few of them together. You'll be able to go over them as often as you wish during the 3 Step process to visually reinforce the pattern setups. We'll also reinforce the pattern recognition with practicing with Entries Flash Cards and Repetition until the intellectual exercises become reflexes.
During your live training, you'll get your computer set up correctly for trading. If you train online, your computer can be set up and configured online as well. I've had many students tell me that this service in itself was worth thousands. It saves students what could be months on their part, trying to set their computers up correctly. One student told me he would have been glad to have paid me an extra $2,500 just for the computer setup work – but he didn't have to…it's included. Even programmers are amazed at all the configuration we do to their computer to make it work faster, more efficiently, and more securely.
You'll also get my personal chart layouts, which are the culmination of 26 years of testing and experience. These charts are like none that you see with software packages; they're much simpler. Let's face it…you don't want to go into information overload, or the charts themselves could get in the way of your own powerful intuition.
"Well you have made a believer out of me. Less is better."
– A.S., San Diego, CA
Most courses and programs would leave you completely to your own devices at this point. But when you take my E-Mini Futures Daytrading Course, you get the post-training mentoring you need, FOR AN ENTIRE YEAR, at no additional cost. We've proven time and time again that this post-training support is the key to reaching your daytrading goals.
After your 5 days or your bite-size video training, during your year of mentoring, you'll frequently receive an email with annotated pictures of charts & entries (screen shots) from that same day. These are my trades. I mark them up so you'll know exactly how they relate to your training. Many have told me that these tutor-style emails are worth thousands of dollars and have really helped them understand the techniques I taught them. They're surprised that I don't charge extra for them, but they are included in the course at no extra charge. These mentoring emails are sent after the market close so you can review the same day you just watched live. These are extremely valuable to your continuing e-mini futures daytrading education, and they are provided to you without additional cost.
You'll also receive an occasional email from me about any other question and my answer about chart patterns or e-mini futures daytrading or psychology. This adds the sole benefit of classroom interaction – learning from other students – without other students affecting your learning pace. Also, if you need further clarification, you may simply reply to me with your own questions and receive a personal response.
You will be able to participate in The Community Room, an exclusive online meeting for DayTradingCourse students. Here, you will be able to watch the market live with fellow students, discussing the markets, trade setups, trade management, trader psychology, techniques, market conditions, and more. To keep each student responsible for his own trades, no one announces at the time of entry. This is great as a chat room replacement. Join in as you wish, and are able; I will be there, or Amy, Student Support, will be with you too. This is a great way to enhance what you've learned, apply it in-the-moment, and enjoy the camaraderie of like-minded traders. The Community Room meets from 9:30 – 3:50 EST every trading day.
You will be able to attend a full year of Daily Recap Webinars, where you are able to interact with an instructor and fellow students, learn from their questions, build camaraderie, and most of all, get your trades analyzed, have your trading questions answered, while looking at the charts together. The questions and answers are relevant to the very same techniques and psychology that you learned in the course. Instructors go more in-depth with instruction and delve deeper into the market nuances of each trade. If you miss a webinar, no worries. You have access to the recorded webinars for further study, available to you with 24/7 access. Students rave over these webinars!
Executive Summary
DayTradingCourse.com includes:
5 days of live, One-on-One Emini/ Mini-Dow futures daytrading training in person or online, customized to exactly what you need. Or our 49 Bite-Size Videos that teach you the exact same material.
Setup and complete configuration of your daytrading computer and trading software.
All of my proprietary chart setups, which have been refined to the nth degree over 26 years.
My 24 Entries taught to you One-on-One; trade in bull and bear markets. 12 bull entries. Flip them over and you have 12 bear entries.
Five daytrading manuals, full of fine-tuned information on techniques, psychology, & your trading computer.
Training materials, annotated screen shots loaded into your computer, handouts, Practice sheets, Entry Flash Cards.
Participation in the Daily Recap Webinars beginning with first day of training, through your year of mentoring.
An easy to follow 3- Step plan to internalize the trading techniques.
A full year of support through the online Community Room. Paul Quillen is here to help you along the way.
A full year of Daily Recap Webinars reviewing your trades and enhancing your learning – both live and archived videos.
Various additional support options for the long term, if desired.
And all of this is to help build your confidence as a trader. You'll know exactly what to do when trading.
Remember: There is simply no substitute for expert mentoring from a personal friend. And it costs you nothing extra.
Q: Can I have a friend train with me?
A: Although we prefer to teach one person at a time, if you have a compatible trader friend you want to train with you, we can accommodate both of you. Please ensure that you and your trader friend complete your own applications, indicating you are training together in the comments field. You will both receive the exact same training, mentoring, and support, including setting up both of your daytrading computers (whether face-to-face or online). Same fee for both of you.
Q: My wife doesn't quite understand what trading entails, and I'd like her to join me in the training, but not become a student. Is this possible?
A: Its important to have support, especially from your spouse. Frequently we hear students advise that his or her spouse just doesn't understand or appreciate what the trader is doing. Many times, the spouse unknowingly undermines the trader's efforts. So, we now offer an extremely reduced rate of only $1000 for your spouse to audit the course alongside your training. Not only does this provide your spouse with an experienced understanding of the trader's life, stresses, and goals, not to mention knowing exactly what you are doing, but we also provide him or her with ways to actively support you in your trading endeavors. If you would like your spouse to join you on your training week, simply indicate your spouse's name on your application and have your spouse complete one as well. Please see the application for pricing details. (This offer is limited to spouses and children only.)
Q: Can you teach me in my home?
A: Yes, pricing details are in the application.
Q: Can you teach me over a long weekend? Or a 3 day weekend and then a 2 day weekend?
A: Yes, we can adapt to most any schedule. If you need to split up your training week, we have found students do better when they have their first 3 days together. You can schedule days 4 & 5 anytime within your year of mentoring. Or you can take the Bite-Size Video Course option and have maximum flexibility. Call us at 770-382-9656 (Eastern Time Zone) or email us to discuss your needs.
Q: Can I train for the week, then after going through the post training steps for a month or two, return either face-to-face or online for another week where we do nothing but trade together so I can fine tune my skills?
A: Yes, we offer fine tuning/refresher days, on a per day basis – take as many or as little as you need. And, for your convenience, we offer them in-person or online. No matter what the reason, once you're a student, this service is available to you should you need it. For example, sometimes the demands of life take priority over trading (and everything else), and often a refresher day is just enough to refocus your return to trading. Pricing and details are on the support page. Special situations are not on the support page so call. This service is available to DayTradingCourse.com students only.
Q: After my training, can I get you on the phone for a couple of hours in the morning session and/or a couple of hours in the afternoon session for fine tuning purposes?
A: You can, however that's really not necessary because you can just get on my Community Room between 9:30 and 4:00 and talk to me all you want through your computer microphone and speakers.
Q: Who should I call to schedule my training?
A: Call me, Paul Quillen,  at 770-382-9656 office or 678-986-8602 cell (Eastern Time Zone).
Q: What are the hours of class?
A: The training is typically Monday – Friday, 9:30 to 4:00 Eastern time. Each day's training is completed by 4 pm at the market close, and you are encouraged to join in the Daily Recap Webinar alongside me, which begins at 4 p.m. and generally lasts anywhere from a half hour to an hour (until all questions are answered). If you are unable to train a full week, we can break up your training according to your schedule via online, totaling 30 hours.
Q: If I travelled to you, where is the class taught?
A: In-person training is held in Metro Atlanta, GA, USA. Please call 770-382-9656 for details. If you train with me, this is my home and home office in Cartersville, GA: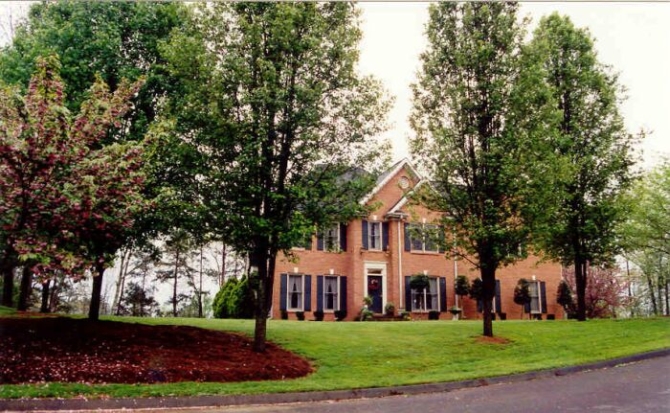 Q: Where's Cartersville, Georgia?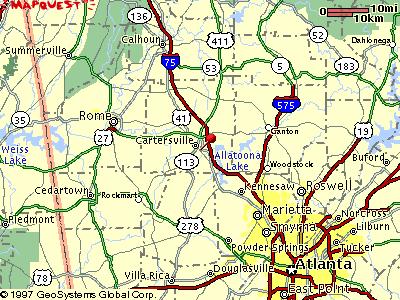 ---
Common Questions
Q: Although I realize that your techniques work with any market, what are some of your reason why you personally like the emini stock index futures?
A: Here's a few of the reasons:
1. Low execution costs
2. Almost 24-hour trading
3. Multiple contract sizes for major markets
4. Liquidity
5. Capital efficiencies
6. No up-tick or pattern daytrader rules
7. Transparent pricing
8. Additional asset classes such as currency futures, ag futures, metals futures, debt futures, etc.
9. Margining system forces one to exercise risk management
10. Better diversification through index-based products for equity traders
11. Stock index futures work very nicely with $TICK or my MACD
12. Emini futures are electronically traded. No open outcry pit.
13. Can trade currency futures which are based upon forex.
14. Can chart the last trade price which is not available in forex.
15. Traded in only one place, so volume is total volume for the contract.
Q: I do pretty good in simulated trading, but when I switch to real money trading, my win/loss ratio crashes. Can you help me with this during our week together?
A: Yes. Part of the course is teaching you techniques to use to bridge from simulated trading to real money trading. This is a common problem area, as your psychology changes when you switch to real money, even if you've been hitting 90% winners on the simulator. We have several time-proven techniques to help you with bridging.
Q: Is it possible for me to conduct a modest amount of business if I train in-person? Would that be too disruptive?
A: Feel free to conduct a modest amount of business if you're training in-person in your instructor's home. With One-on-One instruction, our time is flexible.
Q: I'm trying to decide between training in-person here vs. in-person at your office vs. online vs. Bite-Size videos. What are the advantages/disadvantages of each?
A: The advantage to training in-person is that you get a more personal connection – face-to-face. You and I spend nearly every minute together, including lunch, which allows for more discussion time. Also, when here, students can focus easier during the training and in the evenings when doing the homework because they are away from their daily distractions. Training at your home or your office saves you the travel time but keeps your distractions nearby which is a problem, however if you can eliminate your in-home or in-office distractions, it can be effective. Many people prefer the in-person approach. Especially older people like me.
The main advantage to online training is the travel savings. One disadvantage to online training is the decreased interaction and increased distractions. You'll still spend nearly every minute together, with the exception of lunch – you'll break for lunch and meet back. I include conversation time during the online training to build that personal rapport, so you're still developing the student-mentor connection. Also, for our worldwide students, consider the time difference; you will need to train during market hours during the last couple of days. Of course, we can adjust the schedule to accommodate you.
My new Bite-Size video course is the same material except you don't have to carve 5 days out of your schedule. There's no travel. And you don't have to set aside a week. You can easily fit the Bite-Size videos in during your day or evening and take as long as you want to absorb them. If you want a refresher of anything, simply watch that video again.
For all training options, you receive all the same course material, it is taught the same – just using different methods of delivery. And all training options include the same manuals and the full year of support with the online Community Room and the Daily Recap Webinar. And continuing support after the first year is inexpensively available at $30 per month.
Q: It would be better for me if I don't have to do the whole training in a single week. If I choose to have my training online, can I split up the 5 days?
A: Yes, I can adapt to most any schedule. If you need to split up your training week, I have found students do better when they have their first 3 days together. You can schedule days 4 & 5 later, optimally about a month after your initial training, but anytime within your year. But yes, I can adapt to just any schedule. Call me at 770-382-9656 (Eastern Time Zone) or email me to discuss your needs. If you train using my bite-size videos, you can take the course anytime you have 5 to 12 minutes to watch one of the 49 videos.
Q: If I train in-person, do you have wheelchair access?
A: I could get a ramp made for the two low steps up to my front door. So I'd say yes. Please call if you need wheelchair access at 770-382-9656. We will do our best to accommodate you. Alternatively, of course, you can train online or with our Bite-Size videos or we could possibly travel to you. See the application for travel to you details.
Q: What do we do for lunch?
A: If you train in-person, we go out to eat at any local restaurant of your preference. I know all the restaurants in town. We typically discuss trading psychology and other trading insights over lunch. If you train online, we simply take a break for lunch.
Q: What's your background?
A: I'm a 1968 VMI Electrical Engineering graduate, a Member of the Institute of Electrical and Electronic Engineers (IEEE), a Microsoft Partner, a Certified eSignal Educational Partner, a TradeStation Solution Provider, a keynote speaker at trading seminars, author of trading articles and manuals, a Vietnam Veteran, a Member of the Association of Former Intelligence Officers (AFIO), a second-degree karate brown belt, an Extra Class Amateur Radio Operator N4LCD, a Certified BBQ Judge for the Kansas City Barbecue Society, a member of the Sons of Confederate Veterans, a member of the American Legion, a member of two different Vietnam Veteran organizations, and have been investing and trading since 1991, and day trading since 1993. We have 17 grandchildren that keep us busy.
Q: I already have a trading platform that I like and am used to, and I like 1 minute charts. Can I use it?
A: Since the techniques work on all time frames, you can use any trading platform you want. I have trained students with many different trading platforms and easily adapt to whatever time frame and trading platform you prefer. That's the beauty of True One-on-One™ training. Call me at 770-382-9656 if you want to discuss this further.
Most of my students and I currently trade on the 10 Second, 30 Second, or 1 Minute charts and have all three running all the time. Most trades are on the 30 Second Chart. Most of my recent trades are on the 10 Second Chart except when the volume is low, then they're on the 30 Second Chart. On a rare occasion I take a larger degree trade on the 1 Minute chart. I also do a lot of trading on the 377, 144, 89, 55, and 34 tick charts, depending upon what I'm trading and its volatility and volume. Your trading platform will need to be able to plot $TICK in subgraph 2 if you want to use time charts. If it can't do that, then you can use my variant of MACD which is what we use on tick charts since you can't use $TICK on tick charts anyway. Call me at 770-382-9656 if you have any questions about this.
Q: I feel like I'm fortuitously stumbling upon you. Why haven't I heard about you in the trading chat rooms and forums?
A: Well, its pretty simple. Chat rooms and forums have their purpose, but most public chat rooms are filled with struggling traders and a few not-so-humble-know-it-alls trying to sell mechanical systems to them. The profitable, really successful traders don't have time for that nonsense. I certainly don't. We have a Community room where our students can hang out, however everyone in there has taken my training, so we're all looking at the charts in the same way, and speaking the same language about the chart action.
Q: I've followed you for years, checking your website, called a few times, still preparing for trading as my next career. Over the years, I've seen small classified ads, an article here and there, but you really don't do a lot of advertising. Even your website is more mellow than the others I researched. Why is that?
A: Ah, yes, this is the question I usually get from my students after they've taken the course… they say "If only you would advertise, do this, and that, etc." They are right about the potential I'm sitting on. And I do want to share my methods, but only with people who really want to learn, who are dedicated to becoming independent successful traders. I personally teach you everything you need to know, give you all the tools, mentor you, and support you for a full year to help you achieve that goal. That's my part, but there's work to be done on your part; being receptive to learning is just the beginning. I only want serious traders. I don't want to waste my time, or yours, if you're not willing to do your part. 'More advertising, making this a bigger business, turning my course into a gold mine'… all suggestions from my students… isn't what I'm about. I love trading. I also enjoy teaching, meeting new students, and the personal interaction. I enjoy my lifestyle, relaxed and balanced. Turning my course into a student mill doesn't serve you, the student, any more than it would serve me. After all, big business is the opposite of why I got into trading in the first place.
Sincerely,
Paul Quillen, Founder, Head Trader and Instructor
As seen in:


---
Paul Quillen, Founder, Head Trader and Instructor
Etowah Valley Inc.
dba DayTradingCourse.com
35 Alex Drive NW
Cartersville, GA 30121
770-382-9656