EMINI FUTURES DAYTRADING COMPUTERS
---
Having the right equipment to trade is crucial to your trading career. You will need a computer that is set aside for trading and you will need to bring it with you to your training if you train in person in my office. We will configure your computer on the first day of your training. If you train remotely or with Bite Size videos, we can do any necessary configuration remotely. Since the computer is your only equipment for this new career, we encourage you to call Paul Quillen at 770-382-9656 with any questions and for personalized assistance in determining which computer and/or components are right for your daytrading needs. Also, as techonology constantly improves, we constantly search for the best value and quality components, and constantly update this page with our latest recommendations. Feel free to use our research each time you're making an upgrade to your existing trading components.
Always call Paul at 770-382-9656 as the hardware on this web page may be updated at any time.
You can order the custom built computer, laptop and monitors recommended below through Professional Computers. They are a very reputable company who have been building custom day trading computers according to our specifications since 2003. Please contact Greg at Professional Computers at 770-382-7030 for details and current pricing. Ordering Information is also at the bottom of this page.
If you are building your own computer, a summary of our Trading Computer Specifications is at the end of this page. Again, Paul is available to discuss your computer's specifications.
If you want a laptop computer, scroll down to the recommended laptop computer below.
Information on recommended setups and monitor resolutions is located at the end of this page.
---
Emini Futures Daytrading Workstation: $1,647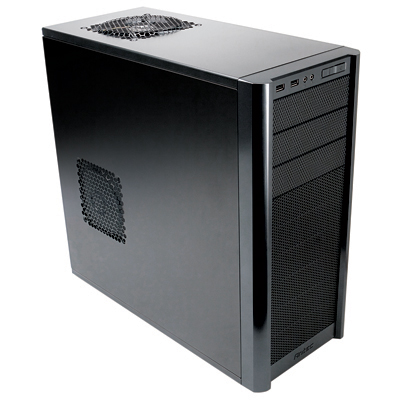 This is the daytrading computer that I use and that many of my students use.
Processor – Intel® Core i7-4770 Processor (8 Mb Cache, 3.40 GHz) (Boxed – 3 Year Warranty)
RAM – 8 GB of PC3-10600 A-Grade 1333 MHz DDR3 (not B or C Grade RAM)
Case – Antec Full Size Mid Tower ATX Case (8.1″ Wide X 18″ High X 18.3″ Deep)
Power Supply – 650 Watt ATX power supply
Motherboard – Intel motherboard with built-in sound and Gigabit LAN
Graphics Card – nVidia GeForce GT610, 1 GB Video RAM, PCI-Express, Dual DVI
CD DVD Burner – SATA Dual-Layer DVD-RW Drive
Hard Drive – Crucial 240 GB SATA Solid State Hard Drive (SSD) (3 year warranty)
Speakers – Logitech Multimedia Speakers
Mouse – USB Optical Mouse
Keyboard – USB Keyboard
Microphone – USB Desk Microphone with mute switch
Operating System – Windows 10 Home Premium 64 bit
Warranty – 3 years on the processor, 3 years on the hard drive, 2 years parts and labor on the system
No monitors included.
Add $99 to extend the system warranty from 2 years to 3 years.
---
Emini Futures Daytrading Course Workstation Laptop Computer
15.6″ Ultra High Resolution Monitor: HD 1080p 1920 X 1080 native resolution
Includes a Mini-Display Port jack in case you want to connect an external monitor.
Call Greg at 770-382-7030 for pricing, as specs and pricing change weekly.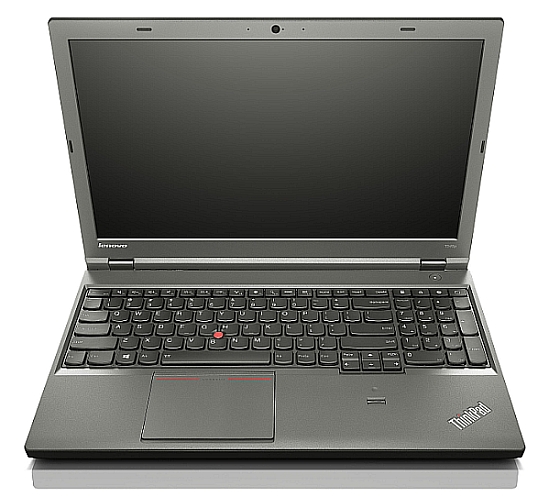 Lenovo Thinkpad Laptop Computer Specs:
Display – 15.6″ 1920 X 1080 LED
Processor – Intel® Core i5 4300M / 2.6 GHz (3.3 GHz) (Dual-Core)
Video Display Controller – NVIDIA GeForce GT 730M / Intel HD Graphics 4600 – 1 GB
Mini-Display Port jack for optional external monitor
Memory – 4 GB Dual Channel DDR3 SDRAM at 1600 MHz
Primary Hard Drive – 500 GB, 7200 rpm
CD-ROM/DVD-ROM Drive – DVD-RW Drive
Battery – Smart Li-ION Battery
Network Adapter – Integrated 10/100/1000 Mbps Ethernet LAN
Intel Dual Band Wireless AC7260 802.11b/g/n
Microphone – USB desk mic with mute switch for those that prefer it over the built in mic.
Operating System – Windows 10 Professional 64 bit
Warranty – 3 Year Limited Depot Warranty
Accessories Included – 110V/220V Autoswitch AC Adapter and Power Cord, Manual, Utility Driver Disc
Call Greg at 770-382-7030 for current pricing, as pricing changes frequently.
Optional: Solid State Drive (SSD). Call Greg at 770-382-7030 for upgrade pricing.
---
Monitors
Two monitors work well for trading when using the DayTradingCourse.com methodology, although a few students use four monitors.
The most popular monitor setup for a desktop computer is a pair of 24″ or larger flat panel monitors (1920 X 1200 resolution) with DVI inputs.
If you already have monitors you would like to use, make sure they meet the minimum specifications. The minimum satisfactory resolution for charting is 1680 x 1050 but is not recommended because 1920 X 1080 monitors are now very common and inexpensive. A lower resolution monitor can be used for order entry, web browsing, email, etc. Can you use lower resolution? Yes, certainly, but it is not preferable long term. Also, the LED backlit monitors are slightly brighter than the older technology fluorescent backlit monitors. And I actually prefer 1920 X 1200.
When comparing flat panels of the size we use, the other specs are almost always acceptable. The important consideration then becomes the warranty. I recommend monitors with a 3 year warranty.
The recommended monitor below is a high end 24″ flat panel with 1920 X 1200 resolution and the latest technology for graphic intensive applications, i.e. charting. LED backlit for solid-state reliability and fast startup. Flexibility with analog, DVI, and Display Port inputs. This is the ideal external monitor for the laptop computer listed above, which has a Mini-Display Port jack for an external monitor. Manufacturer Warranty is 3 years parts, labor, and service.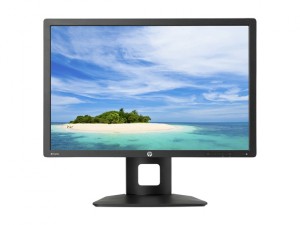 Monitor Specs:
HP Z24i
24″ Screen Size
Widescreen LED backlit
Analog, DVI, and Display Port inputs
5 USB Ports
Full HD
1920 X 1200 resolution
3 year warranty
$350
Call Paul Quillen at 770-382-9656 if you have any questions about day trading computers or multiple monitor setups.
---
Trading Computer Specifications Summary
The critical components to your trading computer are:
Very fast processor such as an Intel i7
Plenty of RAM, such as 8 or 16 GB
64 bit Windows 10
Dual DVI or Dual HDMI or Dual Display Port or Dual Mini Display Port video board
Hard drive capacity is not important but you'll love the speed of an SSD. Most people get a 240 GB SSD, which is far larger than you'd ever need for trading.
Again, call Paul Quillen at 770-382-9656 if you have any questions about day trading computers or multiple monitor setups.
On a new computer always get Windows 10, 64 bit, with 8 or 16 GB of RAM.
Note: Windows XP has been orphaned by Microsoft and should not be used. Windows 7 is getting old and I don't recommend it. I only recommend Windows 10 64-bit.
---
Trading Laptop Specifications Summary
In addition to the specifications for the desktop computer listed above, your trading laptop needs a DVI or HDMI or Display Port or Mini-Display Port video jack for an external monitor. Analog external monitor jacks (typically blue with 3 rows of pins) are obsolete except for connecting projectors.
The native resolution of the monitor in the laptop's lid is the most important specification. The preferred "native" resolution would be 1920 X 1080 or 1920 x 1200. Note that this is frequently difficult to find.
If you want a laptop computer, make sure that you have a real reason for wanting a laptop over a desktop computer. Ask yourself if you'd buy a desktop computer and then cripple it with a 15 inch monitor.
If you do decide that a laptop with a 15 inch monitor is acceptable for you, then I recommend you order the custom designed laptop above, or call me and I'll help you find one locally that will work. The number one problem we've found with most off-the-shelf laptop computers is low monitor resolution and that they hide the resolution. When looking for a day trading laptop, the category of laptops that daytrading requires would be considered "Gaming Laptops" due to the larger and better quality screen size, snappy graphics cards, and high performance processors to handle real time data.
In general, do not expect to find an acceptable trading laptop in a retail store unless they sell Gaming Laptops.
Call Paul Quillen at 770-382-9656 (Eastern Time Zone) or contact us if you have any questions about day trader computers, mulitple monitor setups, or daytrading laptop computers. Also note that anything computer related can change overnight, so call if you have any questions.
---
How to Order
Planning ahead and allowing at least 2 weeks for your custom made computer to be built and burned-in is appropriate.
Order these custom designed Emini Trader Workstation computers from:
Professional Computers & Service, Inc.
207 East Felton Road, Suite 106
Cartersville, GA 30121
Call Greg at 770-382-7030 between 10 and 6 Eastern M-F.
Prices and components can change, so always call and check with them.
No sales outside the continental United States.
Please allow 2 weeks build and burn in time; 3 weeks for laptop.
Prices don't include shipping and/or sales tax, if applicable.
No sales tax if shipped outside of Georgia.
Since these are custom built computers, all sales are final. No refunds.